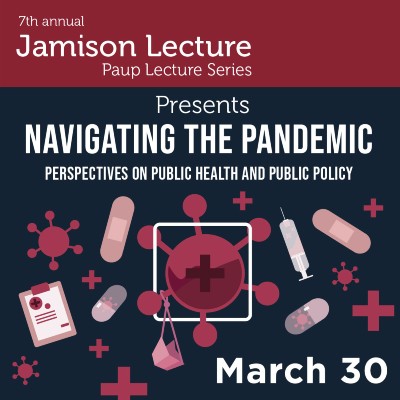 March 4, 2022 — DENTON — Public health officials from Dallas, Denton and Houston will share their experiences dealing with the COVID pandemic at Texas Woman's University's seventh annual Jamison Lecture, part of the Nancy P. and Thaddeus E. Paup Lecture Series.
The lecture, titled "Navigating the Pandemic: Perspectives on Public Health and Public Policy," will take place online via live stream beginning at 7 pm, March 30, and will feature Philip Huang, MD, MPH, Director and Health Authority for the Dallas County Health and Human Services Department; Matt Richardson, DrPH, MPH, FACHE, Director of Public Health for Denton County Public Health; and Stephen Williams, MEd, MPA, Director for the Houston Health Department. Clare Brock, PhD, TWU Assistant Professor of American Politics and Public Policy, will serve as moderator.
The health officials will discuss how they navigated public health and policy during the COVID pandemic. They also will discuss dealing with changing federal guidance, science and the directives of state governments and school districts. These officials were placed in an extraordinarily delicate and tenuous position over the past two years and had to overcome challenges dealing with social solidarity, community health and questions of federalism and state and local control.
They also will offer their views on how the rest of the pandemic will play out, how well prepared we are for the next pandemic and what we can do to improve future pandemic responses.
The lecture is free and open to the public. A question-and-answer session will follow the discussion. Registration is required, and participants will receive an email with a link to the virtual event prior to the lecture.
For more information and to register, please visit twu.edu/jamison.
"The purpose of Alonzo and Elisabeth Jamison when they set up the endowment for the Jamison lecture was to bring nationally and internationally known speakers to campus to address issues of critical social and political importance for the TWU and wider local community," said Jonathan Olsen, professor and chair of the TWU Department of Social Sciences and Historical Studies. "As with all of our previous speakers, this year's speakers will discuss a topic of recent critical importance—how public health officials at the local level moved between federal and state guidance and between their primary charge to protect the health of their local community and the political and social imperatives."
About the Jamison Lecture
In 2014, the Jamison estate donated $1.7 million to TWU to fund the Jamison Lecture and other university needs. The Jamisons were longtime supporters of the university and members of TWU's Old Main Society. Alonzo Jamison served seven terms in the Texas Legislature before joining the TWU faculty in 1968. During his tenure, he became chair of the TWU Department of History and Government before retiring in 1984. He passed away in 2011. His wife, Elisabeth Jamison, received a bachelor's degree in music from the Texas State College for Women, now TWU, in 1943. She died in 2009.
About the Nancy P. and Thaddeus E. Paup Lecture Series
The Nancy P. and Thaddeus E. Paup Lecture Series, sponsored by the Jane Nelson Institute for Women's Leadership, was launched in September 2019 to highlight speakers who are bold, innovative and renowned experts in their fields. The Paups, who reside in Fort Worth, are longtime supporters of TWU. Nancy Paup manages and directs business, real estate and ranching interests in Texas. She previously served on the TWU Board of Regents and was vice-chair during her tenure. She is an elected member of The Philosophical Society of Texas. She currently serves on the Board of Directors of Humanities Texas, the state affiliate for the National Endowment for the Humanities, the Executive Advisory Committee of The Handbook of Texas Women, and the Board of Directors for the Center for the Advancement and Study of Early Texas Art. Nancy Paup has raised funds throughout Texas for the arts, higher education and historical preservation. Her academic degrees include master's and bachelor's degrees from TWU. Ted Paup is the president of Paup Mineral Management, LLC