It's been a dangerous and dramatic couple of days for friends and family of Oleg Palygin, Ph.D., an associate professor in the College of Medicine at the Medical University of South Carolina. The Ukrainian-born scientist is trying to concentrate on his work, but it's difficult. "We're calling all of our friends and hearing explosions in the city of Kyiv booming," he said.
Russia invaded Ukraine on Feb. 24 in what's being called a full-scale attack. Russian President Vladimir Putin said his goal was to defend Russian speakers in Ukraine, especially in two self-declared republics. But Ukraine says it's not trying to take those republics back. Putin also doesn't like the idea of ​​Ukraine joining NATO, something Ukraine has shown an interest in. And Putin has called Ukraine, a former Soviet republic, inseparable from Russia.
But Palygin has a very different point of view. "Ukraine is a nice country. There's a lot of culture and a lot of good people, natural wonders, authentic foods and restaurants. Kyiv is a very beautiful city. We have the Black Sea and cities like Odessa, and we have very old historical cities like Lviv. So there's a diverse population of Ukrainians with different languages, dialects and religions."
Palygin left Ukraine after earning his Ph.D. in biophysics to do postdoctoral training in the UK and the US, where he saw better scientific opportunities. He's now a US citizen, working in the Division of Nephrology at MUSC. But he stays in close touch with loved ones in Ukraine. That includes his parents, who live in a village near Kyiv.
"They're staying home. They're trying not to panic. Right now, there's very high traffic on the roads. And Russian forces are attacking from different directions. So probably the best way right now is to sit home and not travel."
But not panicking isn't easy. "We're worried because the situation with Russia is out of control. Russia is using all of their forces and bombing not only military targets, but targeting civilian areas and infrastructure, including the Chernobyl nuclear power station."
Chernobyl, in northern Ukraine, melted down in the 1980s. The area is still considered highly radioactive. Russian troops have taken control of it.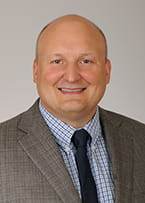 That adds to Palygin's worries about Ukraine's future. "Ukraine is the biggest country in Europe in the sense of size and includes 40 million people. The invasion of Ukraine will have a major impact, not only for the Ukraine, but the world, I think."
That impact is being felt at MUSC's Center for Global Health. Executive director Kathleen Ellis said her team is working on a possible support session for people directly and indirectly affected by the war.
"We are deeply concerned about Russia's attacks on Ukraine and its impact on many in our own MUSC community. We are continuing to monitor the rapidly evolving situation. Over the last 24 hours, we've been reaching out to individuals with connections to Ukraine to offer our continued support and guidance during this challenging time," Ellis said.
Palygin is already surrounded by people who understand just how troubling the situation is. Not only are some of the colleagues in his MUSC lab from Ukraine, he also has a Ukrainian friend who brought his family to visit Charleston for the Presidents Day weekend – who's now in limbo.
"I'm helping them to change their tickets. But not only their tickets – also their life plans. They need to decide what to do. And with small kids, that's not an easy situation."
Why did they decide to travel at such an uncertain time? Palygin said until now, a Russian invasion didn't seem to make sense. "When you're thinking logically with a normal mind, you don't understand the point of starting to bomb cities and attack. This is absolutely a nightmare. That's why he probably believed it wouldn't happen. It's just barbaric. It looks like we live in a previous century, not the modern era."
But this era could be shaped by what's happening in Ukraine, Palygin said. "After Ukraine, it could be other countries in Europe, like Baltic countries. Finland, which already had an invasion. Romania and Slovakia. This is just moving us closer to a possible third world war."
He's hoping the US, which he now calls home, will help prevent that. "Ukraine values ​​the support of the United States for the Ukrainian army and the Ukrainian people. That's a very strong feeling from a lot of Ukrainians. They just feel strong support from United States."