Some of the best adventures are ones we do over and over with new twists each time. For our family of four, with teen twin girls, that's been the drive from Miami to Key West and back, a tradition that began when they were babies.
Our formula generally combines the following three factors: 1) nonstop flight from our home in Maine to Miami or Fort Lauderdale, 2) rented convertible, 3) favorite hotels and stops along the way. It might be a long weekend getaway or a longer stay in the Florida Keys. What follows is a typical Miami-to-Key West getaway for me and my family, with some of my recommendations for clients who might be interested in tracing our footsteps.
We used to rent a Mustang convertible in red or yellow (you can't miss it!) and once did a Jeep, though I wouldn't recommend one for the highway. But now, we prefer a Mini Cooper, which is so much fun to drive. A convertible means four tightly packed passengers and minimal luggage on the three-and-a-half-hour drive to Key West, but that's fine with us.
Top down and sunscreen on, we hit the road and soon merge onto US Route 1. Our first stop is usually Key Largo, the first island in the Keys, where we stretch our legs and get snacks. We may plan ahead to snorkel at John Pennekamp Coral Reef State Park, always a fantastic experience.
Next up is Islamorada, which begins with Plantation Key around mile marker 90, signifying that we are 90 miles from our final destination of Key West. We always stop at World Wide Sportsman (a Bass Pro Shops at mile marker 81.5) for outdoor gear and a climb aboard the sister ship of Ernest Hemingway's Pilar, which he used on fishing trips in Cuba, perched inside the store.
This is also a good time for lunch on the water at Islamorada Fish Company next door. I'd recommend a whole yellowtail snapper — and a dockside table, near where the charter fishing boats launch.
When the twins were younger, they liked to feed the tarpon at nearby Robbie's Marina (mile marker 77).
Just past Long Key State Park (mile marker 67.5), which is also a good stop to do some snorkeling or swimming, we might plan a visit to the Dolphin Research Center (mile marker 59) on Grassy Key to see and feed the Atlantic bottlenose dolphins and sea lions. You can drop in with a general admission ticket ($28 adults/$23 kids) or reserve a Family Dolphin Splash session to get in the water with the dolphins.
After crossing the Seven Mile Bridge, we'll pull into Bahia Honda State Park (mile marker 37). It has some of the nicest sandy beaches in the Keys and is a recommended spot for a swim before hopping back into the car for the final leg of the journey. Along the way, we often stop in at Mangrove Mama's on Sugarloaf Key (mile marker 19) for the live music and creative menu options, such as Cuban paella or plantain-encrusted hogfish.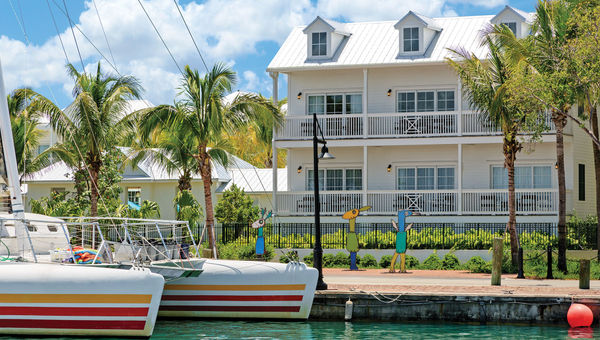 We arrive at our Key West hotel tired but exhilarated from the day's journey. Some of our favorite places to stay include Parrot Key Hotel & Villas, a fun family resort on the Gulf side away from the bustle of downtown, with villas, suites and rooms and multiple shaded pools. For a contemporary twist on Old Town Key West, the Marker (near mile marker 0) has three pools, a casual restaurant bar and vibrant decor and art. Casa Marina Key West, a Waldorf Astoria resort, is a luxe treat, especially fun over Easter when the Easter Bunny arrives on a personal watercraft to oversee a huge egg hunt on the beach.
Bikes are our favorite and the easiest way to get around Key West, and We Cycle has rental options for the whole family.
We often head to Blue Heaven for an alfresco, Caribbean-style dinner amid the restaurant's resident cats and roosters.
The next day, there's La Creperie French Cafe for breakfast and then a ferry ride over to Sunset Key for lunch at Latitudes (reservations required).
Over the years, we've enjoyed the Hemingway House for a dose of literary history, the Butterfly Museum for natural history and a glass-bottomed boat tour for snorkeling. For that, we like Fury Key West, which departs at noon, 2 o'clock and 4:30 pm daily (check-in is half an hour before sailing).
We recently enjoyed exploring the amazing maze of mangroves around the airport with rented sea kayaks from Lazy Dog Adventures on Stock Island.
If it's only a long-weekend getaway, we must tear ourselves away before Friday afternoon happy hour to drive the two hours back to Islamorada and enjoy a dinner on the Gulf Coast — but not before a stop at Kermit's Key West Key Lime Shoppe for a frozen, chocolate-covered Key Lime Pie on a stick. The twins would never let us leave without it.
We usually go to Lorelei (mile marker 82) on Islamorada for blackened catch of the day, such as mahi-mahi or snapper; live music; and magic shows that the twins loved when younger. After dinner, we'll check into the Islander Resort across the street for a great family experience. Cheeca Lodge is another popular Islamorada resort and spa, if you're up for a splurge.
We'll spend Saturday morning relaxing around the pool or paddleboarding in the Atlantic. After lunch at the pool cafe, we hop back into the Mini for the roughly two-hour drive back to Miami Beach.
There, we might stay at the Palms Hotel & Spa for the classic South Beach experience, with pool garden, spa and beach access to the colorful lifeguard shacks. Or if we're more in the mood for a shopping spree, maybe we'll choose the Hyatt Centric South Beach Miami overlooking Collins Avenue, near the shops of Lincoln Mall and Ocean Drive.
After a relaxed Sunday morning enjoying the beach, pool or shopping, we pack up and head to the airport to catch an evening flight home.
I'm not sure how you could pack more into a weekend adventure, but every time we do it, we find something new to add.