The House Health Committee passed two bills inspired by situations that arose out of the covid-19 pandemic.
One, "Ban Any and All Mask Mandates," would forbid state or local health officials from instituting requirements for facial coverings.
The other would put into law that if employers have vaccine requirements then evidence of natural immunity or antibodies would suffice.
These are among several bills advanced by delegates in recent days in reaction to health protocols that went into place during the pandemic. This week, committees advanced separate bills that would forbid proof-of-vaccination requirements and forbid school systems from instituting mask requirements for students or employees.
Over the course of the pandemic, state officials have attributed 6,288 of West Virginia residents to covid-19.
West Virginia is in the bottom quarter of states in terms of the percentage of population considered fully vaccinated.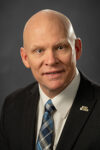 Delegate Todd Longanacre, R-Greenbrier, said the many deaths from covid-19 are tragic but he questioned why there is less discussion of the many people who have recovered.
Addressing the natural immunity bill, he said, "This is about freedom. This is about adults and their positions, making decisions. This will protect employees getting fired in the state of West Virginia when they really don't need a vaccine."
The mask bill that advanced today, HB 4031, was the subject of no discussion by delegates when it was brought up as the last bill in a meeting that lasted on and off from early afternoon into the evening.
The other bill advanced by the House Health Committee, HB 4320, was the subject of lengthy discussion, including a primer on how vaccines work by the committee's chairman, Matthew Rohrbach, who is a physician. No other medical experts or employers testedified.
Some members of the committee described using online search engines to find studies about whether a case of infectious disease would leave antibodies with protection as strong as a vaccine might provide.
The bill's lead sponsor, Delegate Kathie Hess Crouse testified before the committee and said a variety of reading sources had inspired the bill. "I don't have the specific studies in front of me, but I have read that the antibody is just as good if not better than the vaccination," said Crouse, R-Putnam.
Delegate Jim Barach, who was questioning her, hoped for more grounding. "I'd like to see the exact study that brought this up," said Barach, D-Kanawha.
Delegate Michael Honaker, R-Greenbrier, said it doesn't require a medical professional to decide these matters.
"I'll say this: I support the bill. Whatever position you have on any issue you can Google and find data and statistics to back up your position," Honaker said.
"Whether you believe the earth is round or flat there's plenty of references you can find to support whatever argument you want to make. This is one of those arguments.'
Delegate Mike Pushkin, D-Kanawha, questioned the bill on several levels.
"I'm not going to get down in the weeds on the science of it. I don't believe this is based on science really," he said.
"But this is a government intervention in private business. That's what this bill is. This is telling businesses what they can and can't do to keep their other employees, customers, clients, keep them safe. This is not small government. This is a big government."
More questions arose about what proof would suffice for workers citing natural immunity.
"Now they have to prove it. What kind of proof do they have to have? Do you have any recommendations or would you know?" Delegate Guy Ward, R-Marion, asked the committee's counsel.
There was no specific answer.